29 Mar

Home designer & builder

Collaboration between the home designer and the builder completing the project is always important. Translating a client's vision to reality, while taking into account construction & budget feasibility is one of the most important tasks for a home designer.

Here are some things you need to know about the process of home design when it comes to the builder and the home designer.
Home design made simple
Designing a home is a creative process and requires taking your ideas, vision, feedback and turning it into a concept design. The initial concept design should give you an overall look, feel and functionality for your new home.
At this stage it's also important to have discussions about the following:
Your budget & how this might constrain your design
Positives and negative aspects of your site
How you want to live & how the home should reflect that
At this stage, more and more people are starting to engage the builder early to avoid design & budget problems. Having a builder who can review concepts, plans and provide expert advice and initial ballpark estimates before a formal quote can give you more certainty around the cost of what is being designed and ensures you don't waste time or money during the design & planning process.
Getting ideas for your new home
For a lot of people getting the ideas for their new home out on paper is hard. Some people find it easy, but the majority need some help. This list gives you some of the best ways to get ideas for your new home design…
Browse through existing websites of builders with home designs where you can look at different floor plans and facades. Think about what would suit your site and what kind of style you like. At this point you could combine different ideas from different floor plans and designs to create the home you really want.
Go for a drive around the area where you are building and you may see some new homes or recently constructed homes you like and fit within the style of the region you are building in. Seeing them in person may kick start some ideas you have.
Use social media to build ideas of exactly what you want from an aesthetics and functionality perspective for your new home. Building a moodboard on Pinterest is a great place to put together all your ideas in one place, while you build your overall vision for your new home.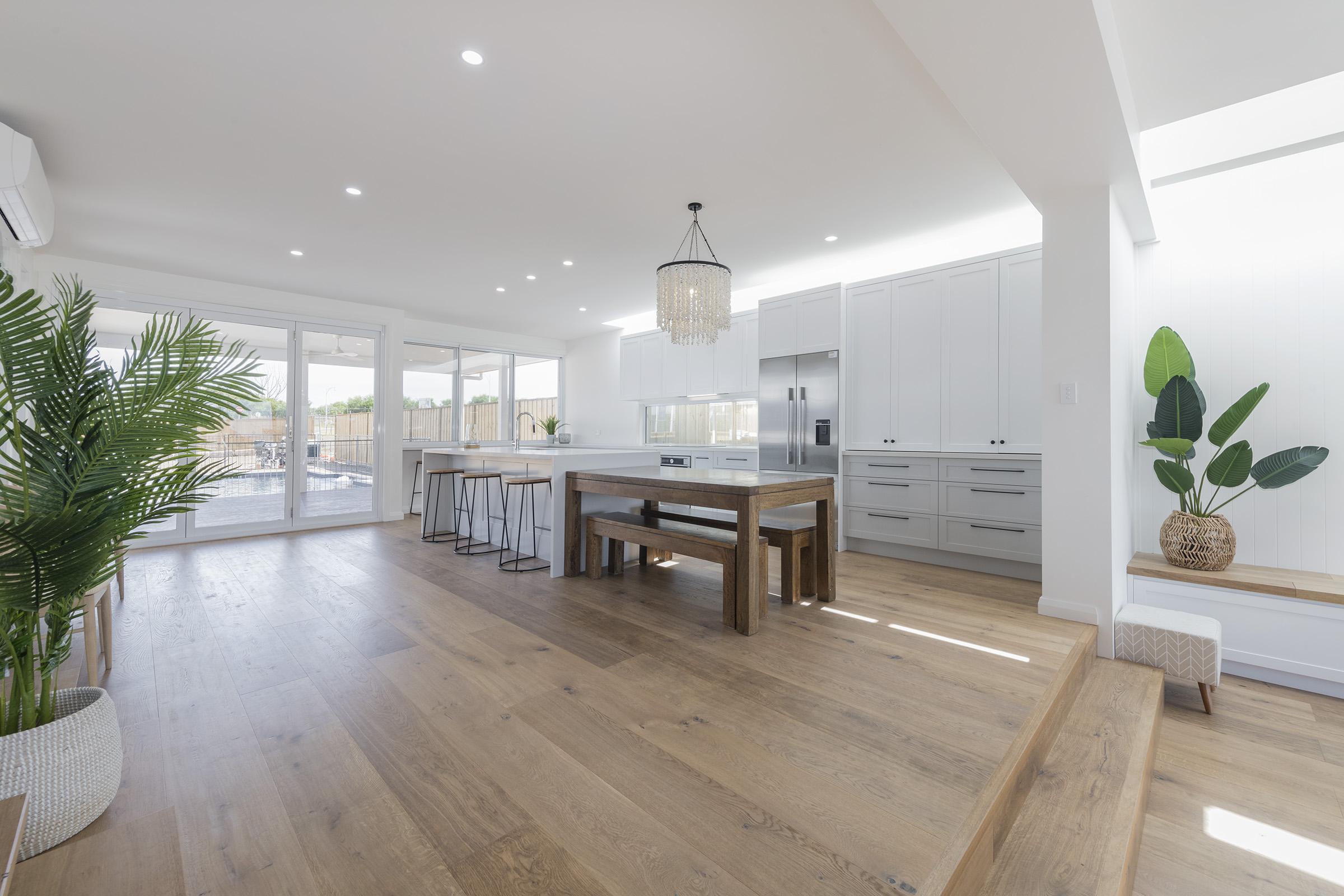 Designing to build – functionality & budget
It's so important that when you are designing a custom home that you always take into account all the factors associated with the actual construction. Being able to collaborate and talk with the builder at the early design stage gives you expert insight into how the home is going to built and how design changes will impact the project budget & the construction.
If you're engaging a custom home builder it's likely that they will be able to step you through the entire process from start to finish. This means the builder who will be completing the project is engaged from the earliest possible point and it's likely you will get a great outcome when it comes to budget, your vision and the functionality of your dream home.
Choosing a designer and builder
We have a recent article about how to choose the right builder. The same typically applies to a home designer if you are using a party external to the builder. It's important to look at things like…
Recent projects completed
Do their designs align with the type of style you like
References or people you can talk to that they have worked with
Finding the right builder and designer shouldn't be a complicated process. Talk to Indie Living today to find out how we can design & build your custom home.
Looking To Build? Talk To Us Today
Use the enquiry form below and a member of the Indie Living team will be in touch with you as soon as possible.